The baby and children's hotel in South Tyrol: holidays at the Garberhof for every generation.
Open wide, here comes the aeroplane.
Ummm! And another spoonful for Mum…
A baby's laughter is the most beautiful sound in the world.
Our Babyclub will keep babies from 6 to 30 months smiling and laughing, as everything here is arranged for your little darlings. Professional carers take care of the little ones, with babyfood made from fresh vegetables and fruit to feed hungry mouths.
From 9:30 am to 9:30 pm Sunday to Friday and from 1:30 pm to 9:30 pm on Saturday
All packed in just two minutes.
To make packing your suitcase at home as straightforward as possible we offer certain extras:
cot
baby bouncer seat
changing mat
nappy bucket
baby bath
potty
bathrobes
bibs
high chair
bottle warmers
kettle
baby monitors
Simply tell us before your arrival what your little darling needs and we will then prepare everything in your family room or suite.
We would however ask you to bring baby's favourite dummy, nappies and bottle with you.
Kids, meet Mother Nature.
You really shouldn't miss the beautiful natural world of South Tyrol and your little ones can enjoy the fresh, clear air too. The child-friendly Puster Valley has a selection of family-friendly trails, some of which are also possible with a pram.
If available we will happily lend you free of charge:
baby carriers
pushchairs
buggies
Delicious babyfood.
Your little darling can also enjoy all-inclusive catering at the Garberhof children's and baby hotel.
We can serve babyfood made from fresh vegetables and fruit or Hipp babyfood products at all meals on request, all from the freshest and best ingredients, of course. Something that is sure to bring a smile to the face of the little ones!
Our offers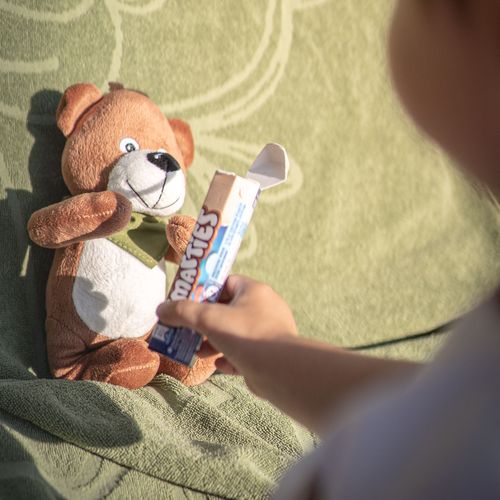 Pino the bear – Our thank you to you!
Loyalty and reliability are qualities that should be encouraged more in today's world. And that's why we would like to say a big THANK YOU to our REGULAR GUESTS!
18.06.2022 - 03.07.2022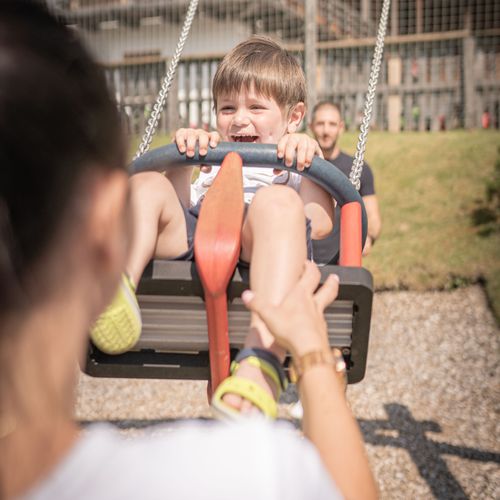 Pino's Happy Families
Family TIME with special weekly programme.
18.06.2022 - 02.07.2022
10.09.2022 - 29.10.2022
Plan your South Tyrol vacation now!